Open to members between 16 and 30 years as at 1 October, prior to the competition, each year. This junior judging competition is competed for annually at a show allocated by the Board. The winner will be awarded the Pitcairns Trophy and receive up to NZ$750 worth of travel towards a nominated show or dairy-industry-related event, to be used within 12 months of receiving the award.
The winner and runner-up of the Pitcairn's Trophy will go forward to represent Holstein Friesian New Zealand in the World Wide Sires All Breeds Junior Judging competition, should this take place.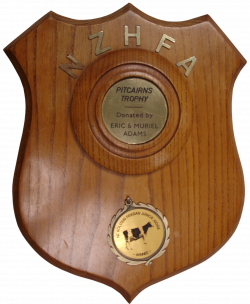 Competition Conditions
The Pitcairns Trophy is open to any young adult between 16-30 years as at 1 October prior to the competition, who is a member of Holstein Friesian New Zealand, belong to the family of a Holstein Friesian New Zealand member or is employed at a registered Holstein Friesian stud.
Any Associate Judge officiating at any dairy cattle show where the HFNZ Pitcairns Trophy is being held, is eligible to enter the competition in that year. Senior Judges are not eligible to enter the competition if they are officiating at the show regardless of breed.
If nominated by a Branch or Club must be a resident in the appropriate area.
All contestants are responsible for their own travel arrangements and costs when attending the competition.
All contestants are asked to provide a profile of approximately 150 words outlining their background and involvement with the Holstein Friesian breed to be used at the competition and for publicity purposes.
Previous winners of WWS All Breeds Junior Judging competition are not eligible to enter again.
Travel Allowance Conditions
The HFNZ Board must approve the nominated show or dairy related event.
Arrangements for the chosen event must be made within 12 months of receiving the Pitcairns Trophy.
All arrangements for the chosen event are the responsibility of the winner.
The prize money of up to NZ$750 must only be used for travel or registration costs and will be reimbursed once the receipt has been approved by the HFNZ Board.
The winner is to be a true ambassador of the Holstein Friesian Breed and New Zealand at all times.
The winner should prepare themselves to speak at Branch/Club events and write an article for the magazine and website on their experience.
All results are available for publication. It is a reasonable expectation that any imagery and/or comment taken/gather by HFNZ will be used in future marketing, both in print and online. HFNZ retains the copyright for this content.